I N V I T A C I O N
Diálogo Entre Naciones ofrece la oportunidad de participar en un entorno virtual interactivo. Està diseñado para complementar las negociaciones de la OEA sobre el Proyecto de la Declaración Americana sobre los Derechos de los Pueblos Indígenas. Nuestra programación especial en la red introduce los procesos internacionales de derechos humanos a los futuros líderes del hemisferio.
HACIA EL CONSENSO

DIALOGO SOBRE EL TEXTO CONSOLIDADO
DEL PROYECTO DE DECLARACION PREPARADO
POR EL PRESIDENTE DEL GRUPO DE TRABAJO
Cuales son sus expectativas ante las Negociaciones sobre el Texto Consolidado?

Los invitamos a escoger uno o dos artículos del Texto Consolidado y a enviarnos via e-mail sus comentarios y su posición frente a estos incluyendo recomendaciones sobre los artículos que se deban revisar. Sus opiniones aparecerán en el lugar apropiado dentro del Texto Consolidado Interactivo en nuestra red de Diálogo Entre Naciones.

Además nos gustaría recibir los resultados de las consultas nacionales para publicarlos también en nuestra página.

---
Dialogue Between Nations is presenting an opportunity to participate in a virtual interactive program of action - designed to complement the forthcoming Negotiations of the OAS on the Draft American Declaration on the Rights of Indigenous Peoples. With the inclusion of your commentaries, the programming on our web site will provide an important resource for future leaders of the hemisphere with regards to international human rights.
TOWARDS CONSENSUS

CONSOLIDATED TEXT OF THE DRAFT DECLARATION
PREPARED BY THE CHAIR OF THE WORKING GROUP
June 2003
What are your expectations of the negotiations on the Consolidated Text? We invite you to select one or two articles of the Consolidated Text and to email your commentaries and your position concerning their meaning and implications, including your recommendations on articles which you believe should be revised. Your opinions will appear in the appropriate section of our Interactive Consolidated Text, currently in production for our web site, Dialogue Between Nations. We would also like to receive and publish the results of the national consultations in our pages.

We look forward to working with you in contributing to the transparency of this important process.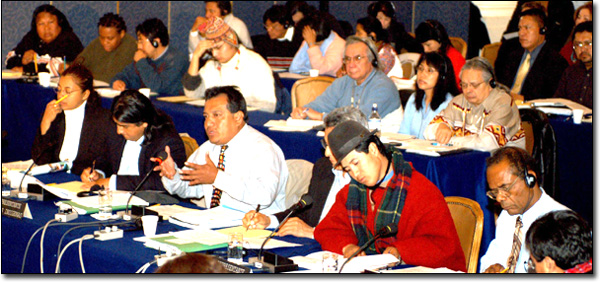 Hector Huertas, Kuna attorney from Panama, and Indigenous Caucus rights-holders
in dialogue, negotiating the future of Indigenous generations
Photo: Roberto Ribeiro, OAS
PUNTO DE VISTA / POINT OF VIEW
TEXTO CONSOLIDADO DEL PROYECTO DE DECLARACIÓN
PREPARADO POR LA PRESIDENCIA DEL GRUPO DE TRABAJO

MODIFICACIONES PROPUESTAS A LA SECCIÓN TERCERA:
IDENTIDAD CULTURAL

Posición conjunta de
American Indian Law Alliance,
Grand Council of the Crees (Eeyou Istchee), Tetuwan Oyate Teton Sioux Nation Treaty Council,
y Na Koa Ikaika Kalāhui Hawai'i
CONSOLIDATED TEXT OF THE DRAFT DECLARATION
PREPARED BY THE CHAIR OF THE WORKING GROUP

PROPOSED REVISIONS TO SECTION THREE:
CULTURAL IDENTITY

Joint Position of the
American Indian Law Alliance,
Grand Council of the Crees (Eeyou Istchee),
Tetuwan Oyate Teton Sioux Nation Treaty Council,
and Na Koa Ikaika Kalāhui Hawai'i
TEXTO CONSOLIDADO DEL PROYECTO DE DECLARACIÓN
PREPARADO POR LA PRESIDENCIA DEL GRUPO DE TRABAJO

MODIFICACIONES PROPUESTAS
A LA SECCIÓN CUARTA:
DERECHOS ORGANIZATIVOS Y POLÍTICOS

Posición conjunta de
American Indian Law Alliance,
Grand Council of the Crees (Eeyou Istchee),
Tetuwan Oyate Teton Sioux Nation Treaty Council,
y Na Koa Ikaika Kalāhui Hawai'i
CONSOLIDATED TEXT OF THE DRAFT DECLARATION
PREPARED BY THE CHAIR OF THE WORKING GROUP

PROPOSED REVISIONS TO SECTION FOUR:
ORGANIZATIONAL AND POLITICAL RIGHTS

Joint Position
of the American Indian Law Alliance,
Grand Council of the Crees (Eeyou Istchee),
Tetuwan Oyate Teton Sioux Nation Treaty Council,
and Na Koa Ikaika Kalāhui Hawai'I
"INTEGRIDAD TERRITORIAL" Y "SOBERANÍA"
DE LOS ESTADOS:
PREOCUPACIONES BÁSICAS RESPECTO
DE LOS DERECHOS INDÍGENAS
(Propuesta de la Nación Metis y otros)
22 de diciembre de 2003

American Indian Law Alliance
y
Grand Council of the Crees
(Eeyou Istchee)

Un análisis de la propuesta (Artículo IV)
que fue presentada en forma oral
ante el Grupo de Trabajo de la OEA
por un representante de la Nación Metis
"TERRITORIAL INTEGRITY"AND "SOVEREIGNTY"
OF STATES:
BASIC CONCERNS FOR INDIGENOUS RIGHTS
(Metis Nation et al. Proposal)
December 22, 2003

American Indian Law Alliance
and
Grand Council of the Crees
(Eeyou Istchee)

Analysis of the oral presentation
of the Metis Nation and others,
pertaining to Article IV during the Initial
Negotiations
Declaración de los Pueblos Indígenas
de Guatemala
sobre Proyecto de Declaración Americana
de los Derechos de los Pueblos Indígenas
de la Organización de Estados Americanos
15 de octubre de 2003
Declaration of the Indigenous Peoples
of Guatemala
Regarding the Draft American Declaration
on the Rights of Indigenous Peoples
of the Organization of American States (OAS)
October 15, 2003
OEA Propuesta de Declaración
American Indian Law Alliance
10 de junio de 2003
Statement from the
American Indian Law Alliance
June 10, 2003