SILENT GENOCIDE
INDIGENOUS PEOPLES: THE RIGHT TO LIFE

International Day for the Elimination of Racial Discrimination
March 21, 2011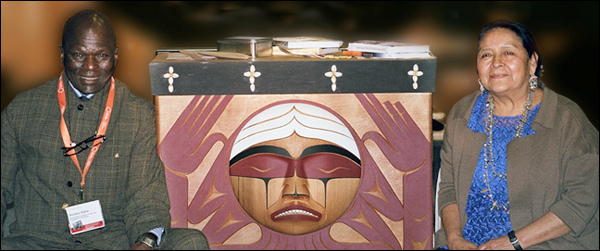 Truth and Reconciliation Commission of Canada (TRC) - Sharing Truth: Creating a National Research Centre on Residential Schools, March 1-3, 2011, Vancouver, Canada

International Speakers, L-R, Doudou Diene, UN Special Rapporteur for contemporary forms of racism, racial discrimination, xenophobia and related intolerance (2002-2008) and Otilia Lux de Coti, member of Congress of the Republic of Guatemala, vice-president of the United Nations Permanent Forum on Indigenous Issues (2002-2007).

The TRC Bentwood Box, carved by Coast Salish artist Luke Marston, is a lasting tribute to all Residential School survivors and reflects the strength and resilience of residential school survivors and their descendants, and honours those survivors who are no longer living.
---

A PERSONAL VISION ON SILENT GENOCIDE

NATALIE DRACHE

Editor/Publisher

Dialogue Between Nations


For two decades, I have been listening to Indigenous peoples from all regions of the world attempting to bring attention to what is happening to them in their communities and outside of their communities: forced relocation; the scarring and appropriation of their lands; the mutilation of the air, the seas, rivers, earth, plants and animals, ourselves and all our relations, disrespecting warnings, prophesies, Indigenous true history, language and traditional knowledge. The violent removal of children from their parents and the abuses played out upon them; the annihilation of families caught in the cross-fire of wars that are not of their own making; and many other violations of individuals whose right to exist is not respected.

I recently had the opportunity of attending Sharing Truth - Creating a National Research Centre Forum on Residential Schools, an initiative of the Truth and Reconciliation Commission of Canada. A number of international guest speakers from several continents were invited to share their knowledge with regards to the preservation of survivor experiences. An evaluation of best practices is intended to form the basis towards Establishing a National Memory, which will contribute to the healing of the trauma experienced by a large number of Aboriginal people and their communities, as well as providing a living memorial to be shared with all Canadians. Truth sharing circles were an integral component of the forum, allowing survivors who chose to speak, an opportunity to transform their sorrow and memories.

All this unexpectedly touched something that has been at the core of my own emotional imbalance as I attempt to come to grips with a recurrent theme, one which twists my soul, leaves my throat dry, and heightens an internal shaking that is the current of my most intimate fear. Immersed in the generosity of the moment, I crossed over from being a witness-by-profession and entered the circle of pain alongside aboriginal survivors: forgotten children now being remembered. When the feather and a stone was handed to me, I offered up an apology for not knowing what had happened and a second apology for not speaking out when I did know of the existence of the residential schools. But more than that, it was the first time that I no longer denied that lifelong trauma which passes from one generation to the next, through one century into another.

There are situations, past, present and ongoing of such distress, which if widely considered, fall into the definition of genocide. In some cases, determined acts of genocide are localized, pre-meditated and legislated. In other instances, genocide is the result of an acquired attitude, very quiet and dispersed, so silent and almost casually accepted, that the disappearances and deaths of Indigenous individuals one by one, goes unnoticed. A family disinherited, brutalized here, or there, living in fear and trauma.

If one were to access reports on the number of Indigenous people around the world suffering on a casualty by casualty basis, there is no doubt in my mind we are talking about millions of individuals caught up in a devastating holocaust which continues to evolve, and to which there is a very disturbing and almost passive lack of awareness.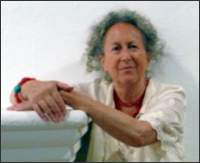 Natalie Drache, Canada
Editor/Publisher, Dialogue Between Nations
Delegate, Sharing Truth: Creating a National Research Centre on Residential Schools


Saying this, I have come to the conclusion that there is a consistent and systemic movement of global proportions consumed by an irresponsible inertia of ignorance turning into subtle and invisible violence, which could potentially lead to the elimination or total assimilation of Indigenous peoples throughout the world. I call this horrific vision Silent Genocide.

Because the scale of this movement is rarely visible beyond immediate rights abuses, and the larger framework is almost never given a context beyond local communities and national borders, the scope of this tragedy is not readily apparent. The accumulation of multiple violations worldwide is rarely investigated, nor even considered by local media and justice systems.

And in almost all seemingly invisible or non-violent cases, the general public remains silent, either in ignorance, complicity or denial, citizens whose moral response to the idea that genocide attributed to them is insulting. Of course, this might be an enormous and mistaken generalization on my part as there are people of good faith, compassion and trust who are working with and for Indigenous people in a process of reconciliation and justice. This attests to the fact that accountability rests with each citizen in urging their country's government to comply and act on the ground in accord with human rights and humanitarian law. What is a country if it isn't you and I?

However, if my initial observation regarding the tragedy of silent genocide, based upon factual evidence, including testimony, memory and oral history is found to be wrong, then I would hope that the current situation of Indigenous Peoples and the potentiality of a uniquely different relationship based upon the recognition and implementation of their inherent rights, would eventually, over several generations, lead to respect for Indigenous self-determination comfortably co-existing on equal terms with other societies.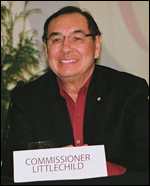 Chief Wilton Littlechild, Commissioner
Truth and Reconciliation Commission of Canada.
Independent expert, member of the United Nations Permanent Forum
on Indigenous Issues, 2002 - 2007

The possibility of a peaceful relationship of Indigenous nations within nation states, and vice-versa: nation states respecting the traditional territories of Indigenous peoples, nations, tribes and clans, and the realization of such a constructive and positive vision, would most certainly contribute to the stability and survival of our shared modern world.

It is suggested in a not entirely universal concept of evolving human rights, and within the definition of a so-called civilized society, the current trauma of millions of Indigenous individuals can, on one hand, be healed through the elimination of racism, racial discrimination, xenophobia and related intolerance. I see it more like the elimination of the causes of the above. And I am speaking here about a profound individual social, cultural and political will leading to personal and collective transformation.

Between all of us, we have some commonalities: many of us carry some joys but all of us carry some scars. No one is completely immune to pain in its directness and in its many mental and psychological manifestations. Yet, we also have the capacity of denial when it suits us as we become de-sensitized to the pain in others or inflicted upon others in a clash of worldviews and xenophobia.

This amazing ability to open up or/and close down on our humanity, as easily as breathing in or breathing out, acts as a form of protection and survival. It is often motivated by the dichotomy of perception, as well as the multiplicity of misconceptions we create on so many levels that impact one another in accepting a friend or eliminating an enemy. Who shall live and who shall die in a world which we seemingly try to control through personal or collective judgments?



As a child born in Vancouver, Canada on March 21, 1942, enjoying the seasonal magic of the first day of spring, to later in life discovering that because of a massacre in Sharpeville, South Africa in 1960, this precious day of mine lost its innocence. Or perhaps it was I who lost my innocence. The United Nations chose to commemorate that tragedy in Sharpeville by naming the 21st of March, the International Day for the Elimination of Racial Discrimination and I found my birthright catapulting down a path over which I had no control. I can only hope that some splinter of sacred intuition envelopes and protects me/all of us like a parachute softly floating against free fall, towards a world illuminated within a brilliant flash of insight.

There is a journalistic ethic to be respected here, but I believe it has been betrayed by a broken heart.

So I have to ask myself, and you also, why is it so difficult, so challenging to embrace each other's distinct and diverse right to life? Is it not possible to turn around the devastating wave of silent genocide as perpetrated on many of the nearly 400 million Indigenous people living in our world today?

To all of you, survivors, witnesses and friends: our humanity is on the table for debate and dialogue. Our humanity is up for grabs. And so is our compassion. And our silence.

Natalie Drache
Editor/Publisher
Dialogue Between Nations






Truth and Reconciliation Commission of Canada
L-R Commissioner Marie Wilson, Commissioner Justice Murray Sinclair,
Commissioner Chief Wilton Littlechild


TRUTH AND RECONCILIATION COMMISSION OF CANADA
COMMISSION DE VERITE ET RECONCILIATION DU CANADA

The truth telling and reconciliation process as part of an overall holistic and comprehensive response to the Indian Residential School legacy is a sincere indication and acknowledgement of the injustices and harms experienced by Aboriginal people and the need for continued healing. The Truth and Reconciliation Commission will build upon the Statement of Reconciliation dated January 7,1998 and the principles developed by the Working Group on Truth and Reconciliation and of the Exploratory Dialogues (1998-1999).

Le processus de vérité et de réconciliation, qui s'inscrit dans une réponse holistique et globale aux séquelles des pensionnats indiens, est une indication et une reconnaissance sincères de l'injustice et des torts causés aux Autochtones, de même que du besoin de poursuivre la guérison. La Commission de vérité et de réconciliation s'inspirera de la Déclaration de réconciliation du 7 janvier 1998 et sur les principes établis par le Groupe de travail sur la vérité et la réconciliation et pendant les Dialogues exploratoires de 1998-1999.
About DBN | Silent Genocide | Vision | Relationships | History
Español/Spanish