22 April 2008

MEDIA PERSPECTIVES
3rd and 4th Meetings

SEVENTH SESSION
UN PERMANENT FORUM ON INDIGENOUS ISSUES
OFFICIAL WEB SITE


LISTEN TO DAILY AUDIO BROADCASTS OF THE
7TH SESSION OF THE UN PERMANENT FORUM


22 April 2008
The dbn.tv team in Canada and Spain wishes to thank the UN Audio Library
and the Recording Room for their collaboration
in making these sessions available around the world



---
UN NEWS SERVICE - INDIGENOUS PEOPLES
UN PRESS RELEASES AND MEDIA COVERAGE
Economic and Social Council
HR/4946

Permanent Forum on Indigenous Issues
Seventh Session 3rd & 4rth Meetings (AM & PM)

INDIGENOUS PEOPLES MUST BE INCLUDED IN GLOBAL NEGOTIATIONS
AIMED AT COMBATING CLIMATE CHANGE, SAY SPEAKERS
IN PERMANENT FORUM

Delegates Stress Indigenous Voices Now Excluded from Process,
Some Proposed Solutions Could Have Disastrous Impact on Their Communities

As the seventh session of the Permanent Forum on Indigenous Issues entered its second day, dozens of delegates took the floor to point out that indigenous peoples must have a say in negotiations on how to combat global climate change, because solutions currently being implemented were turning out to be further violations of indigenous rights. (complete Press Release available here)

VOICES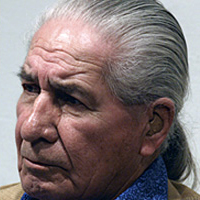 Dr. Chief Oren Lyons
Faithkeeper and Chief of the Turtle Clan of the Onondaga Nation
of the Six Nations of the Iroquois Confederacy, the Haudenosaunee
OREN LYONS, Faithkeeper of the Haudenosaunee, (Six Nations) noted that it was Earth Day. He went on to say that, 31 years ago, more than 100 indigenous delegates journeyed to Geneva to brief the United Nations on the state of indigenous peoples. Though they were survivors of a horrendous genocide, they had chosen not to speak for themselves, but rather in defense of the natural world. They had warned against exploitation by industrial States. In their opening address, they had spoken of the natural world, represented by the eagle, which, it was to be noted, had no seat at the Palais des Nations.

He said humans were bound by the laws of nature. In 1978, an Indigenous runner from Greenland again informed United Nations that ice was melting in the north. Twenty-two years later, at the Millennium Summit, he himself brought the same message to the United Nations. Today, the same message was being delivered, but with positive options. However, time was an urgent factor and there was a short time left to arrest global warming. How the human species would fare was totally in its hands. Business as usual could not proceed. Old values of commerce and consumerism must change to one of conservation, cooperation and sharing. The United States Government must join the industrialized world to place a carbon cap on its activities; since it owned one quarter of world's carbon footprint, it must be a leader for common sense and positive change. It was up to States, and not individuals, to make the required changes -- to rein in and regulate corporate power. "Our fate is in our hands," he said, adding that no matter what happened, "we will have no one to blame but ourselves".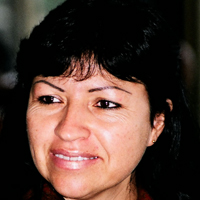 Azelene Kaingáng
Co-Chair of the Indigenous Peoples' Caucus of the Americas

AZELENE KAINGANG, Caucus Indigena de Latinoamerica, said the industrialized countries were responsible for global climate change, with their wastefulness and over-consumption. The poor countries should not be blamed for the ills produced by those with unbridled consumption. Furthermore, it was unacceptable that those wasteful countries, who were party to the Kyoto Protocol, should make decisions on how to control climate change without consulting indigenous peoples. States and United Nations agencies should adopt the recommendations in the Declaration to address climate change and there should be immediate implementation. Further, States must be urged to ensure the full and effective participation of all peoples in processes that affected them. Governments should be urged to require corporations to get free prior consent with all the cautionary conditions. They should also control deforestation.


---

Indigenous people: stewards of the earth (duration: 4'07")
22/04/2008

More than 3000 indigenous people are at United Nations headquarters in New York for the UN Permanent Forum on Indigenous Issues. Climate change is the hot topic for the two-week meeting, as we hear in this report from Dianne Penn.