INDIGENOUS SUMMIT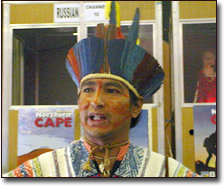 "The world has got the habit of holding international summits, but no one ever does any climbing", a paramount chief of the Korana Community of the Khoisan Indigenous People of South Africa, Josiah Katz, said.

"Although we were rich in land and cattle, today we are poor because of the colonial powers who ruled us for more than three decades" said the 62-year-old chief as he held back tears.

"Today we hope and pray that we will get back, all that we have lost" the chief hoped.

Demands for land ownership, respect for indigenous culture, languages and dignity dominated the opening day of International Indigenous Peoples' preparatory Conference for the forthcoming World Summit on Sustainable Development.

Participants at the Pre-summit Conference drawn from seven regions were unanimous on needs for formulation of an action plan at the local, national, regional and world levels that would ensure their recognition within human development.

They demand effective participation in all the stages and levels of decision-making in institutions, programmes and sustainable policies related to them.

"No more lip-service but action is required now, because time is of great essence" retorted a member of the executive council of South Africa's Ministry of Economic Affairs and Tourism, Mr Thabo Makweya.

Attributing slow pace in realization of meaningful results to lack of proper strategies, and effective programmes, the government official called for time-bound implementation strategies for the world's Indigenous Peoples' human development.

Governments and multinational corporations were accused of back-peddling on the promises on commitments made at the Rio Earth Summit in 1992 to reverse environmental degradation and narrow the income gap between rich and poor.

"I know the work ahead of us is gigantic, I know the sacrifice it has to take, I know how long it has to take, but keep on the struggle as it has to have a beginning", Lawrence Ignace, a member of the international First Nations told participants.

The pre-summit Conference is expected to run for four days before delegates travel to Johannesburg for the World Summit on Sustainable Development, which begins on the 24th August, 2002.