INDIGENOUS RECOGNITION
Indigenous Peoples Receive Recognition by the Member States of the United Nations

By Yusuf Ali
It was a victory for Indigenous Peoples of the world as the World Summit on Sustainable Development concluded in Johannesburg, South Africa.

The twenty-five year struggle by Indigenous Peoples finally bore fruit when the United Nations member states accepted their collective rights and recognised their vital role in sustainable development.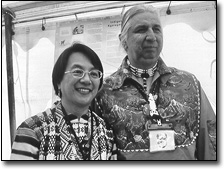 Victoria Tauli-Corpuz and Kenneth Deer
"It is a historic moment, as this is the first time for the term "Indigenous Peoples" (with the S on peoples) to be included in any official UN document without qualifications" said Kenneth Deer, a Mohawk citizen and participant on the American Indian Law Alliance delegation to the Summit.

"This is affirmation that we do have collective rights and political recognition," he said.

The members of the International Indigenous Peoples Caucus, who spent long hours lobbying and engaging governments in roundtable talks for the inclusion of a sentence that reaffirms their vital role in sustainable development, emerged out of the conference overwhelmed with joy as their demands for the inclusion of the phrase "We reaffirm the vital role of Indigenous Peoples in Sustainable Development" in the governments' Political Declaration were realized.

This was the first time that governments committed to recognising them as "Peoples" as they had in the past been referred to as Indigenous People, populations, communities or groups, terms which never gave them collective rights.

"I am delighted. Finally our long struggle, our lobbying in round tables and plenary meetings has rewarded us. It will never be the same again. From today, we shall emphatically demand from governments our rights to land, resources and recognition," said Victoria Tauli-Corpuz of the Tebtebba Foundation, based in the Philippines.

Indigenous Peoples, with a world population exceeding more than 350 million, are struggling to have governments recognise their right of self-determination, restore their lands, allow them to practice their cultures and guarantee access to their traditional sacred sites.

They are also demanding free, prior and informed consent to all forms of investment including mining, oil extraction, construction of dams and establishment of any corporations within their localities.

Besides the gain, the group was however, dissatisfied with the partnership forged by the World Conservation Union (IUCN) and the International Council of Mining and Metals (ICMM).

The Caucus termed the partnership a shame and an approval of the continued "rape" of Mother Earth by the mining industry.

"It's a contradiction for ICMM, whose mining industry have systemically engaged in the rape of our Mother Earth, to have suddenly changed heart to implement best management practices to protect biodiversity. By nature of its technology, mining is unsustainable. The mining industry has a poor record of corporate responsibility to local communities," lamented Tom Goldtooth of the Indigenous Environmental Network.

The global coalition of Indigenous Peoples called for a moratorium on mining activities until governments and corporations accepted the principles of free, prior and informed consent to all forms of mining.

"Entering into a partnership on mining and biodiversity with the World Conservation Union, while marginalising Indigenous Peoples and local communities who are most severely impacted, is gross cynicism and non-accountability on the part of these global organizations," said Joji Carino of the Tebtebba Foundation, the Indigenous Peoples International Centre for Policy, Research and Education.