INDIGENOUS/BRETTON WOODS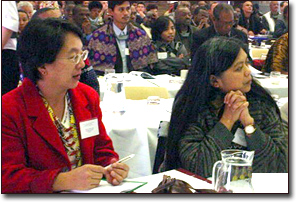 Victoria Tauli-Corpuz and Joji Carino -- Philippines
The ongoing International Indigenous Peoples' Conference recommends for amendments to the United Nations Charter to categorically disallow the patenting of life forms.

"It should clearly prohibit the patenting of micro-organisms, plants animals including all their parts, whether they are genes, gene sequences, cells cell lines, proteins, or seeds", Victoria Tauli-Corpuz, the Executive Director of the Tetebba Foundation said in her presentation on the World trade Organization rules at the conference.

Victoria said the Indigenous Peoples have set forth to have article 27.3b of the UN charter amended to prohibit the patenting of natural processes.

"Instead the article should ensure the exploration and development of alternative forms of protection of alternative forms of protection outside of the dominant western intellectual property rights regime" she said.

The head of the indigenous Philippines organization, took issue with the multilateral agreements and conditions imposed by the Bretton Woods institutions, the International Monetary Fund(IMF) and the World Bank.

The continued expansion of the trade related WTO agreements to include agriculture and investment heightened poverty level in developing countries, she said.

"Countries like the US and Canada subsidize their farmers, then export the products to less developed nations, posing unfair competition to locally manufactured goods" she argued.

Citing the examples of Corn farmers, in Mexico and Philippines and Dairy farmers in Jamaica, Victoria illustrated the suffering peasant farmers and more particularly the Indigenous Peoples have undergone at the expense of subsidized and mechanized farmers from the rich nations.

An average of 50,000 corn farmers in the Philippines and 60,000 in Mexico are believed to have lost their livelihood owing to the unfair competition posed by products dumped into their markets by multinational organizations.

"The multilateral laws gives undue advantages to the transnational and multinational corporations to suffocate the indigenous, the trend if let to continue threatens to sweep the locals off the face of the earth" Victoria stated.

Resource allocation and resource utilization must be based on market prices, which should conform as closely as possible to international prices, the paper recommended.