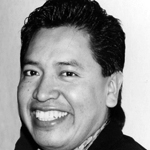 Indigenous Nation: Maya Kiche
Nation State(s): Guatemala / Canada
Language(s): Maya Kiche / English / Spanish
UN Region: Latin America and the Caribbean
LEONZO BARRENO was born and raised in Quetzaltenango, Guatemala. He obtained his primary and high school education in Guatemala. He came to Saskatchewan in 1989.

After completing the language requirements (ESL) he immediately enrolled in the Saskatchewan Indian Federated College (SIFC), where he obtained his Bachelor of Arts, Honors, in Indian Studies in 1996. During his time as a student he found employment at SIFC in the maintenance area, he then served as an Administrative Assistant to the Director of International Programs in 1992. In 1994, Mr. Barreno was appointed Coordinator of the International Indigenous Programs, a position he held until the end of the program in 1997. During his term as a Coordinator, more than 70 Indigenous young leaders from 20 countries became SIFC students. The international program offered a certificate in International Indigenous Management to those who completed the program. The program was also offered for two years in Costa Rica and one year in Chiapas, Mexico.

Between 1998 and 1999 Mr. Barreno, in consultation with the SIFC Elders and executive, Government representatives and Aboriginal youth developed the concept, goal and activities of the Aboriginal Youth Leadership Development Program (AYLDP). Since 1999 AYLDP has created several Leadership, Traditional and Academic programs for Aboriginal youth and adults. In June 2000, Leonzo was appointed Director of the Indigenous Center for International Development (ICID) of the SIFC.

As the administrative head of both the AYLDP and ICID, Mr. Barreno is responsible for creating and implementing Leadership and Traditional programs for local Aboriginal people and to oversee SIFCs International commitments. One of the main duties under the International center is to be the program manager of the Indigenous Studies and Education program in partnership with the University of Chiapas, Mexico. The program is in its fourth year and has resulted in the creation of a Masters in Indigenous Education in Chiapas where 38 students have completed the Program, with more graduates in 2003 and 2004. A Degree in Management and Indigenous Self Development is under the approval process in Mexico and a specialization in International Indigenous Issues is under development at SIFC.

Leonzo has taught the Course "International Indigenous Issues at SIFC for five years. He also taught the course Indigenous Philosophy and Religion in the winter of 2002.

Leonzo has given presentations about Indigenous development and Indigenous higher education in several Universities and forums in Chile, Guatemala, Costa Rica, Nicaragua, Ecuador, Mexico and to the Inter American Development Bank in Washington. He is the author of a study about Higher Education Institutions and Programs for Indigenous people in Latin America. The survey was used as a working document by UNESCOs gathering of international experts in the topic in Guatemala in April 2002. Recently, January 7, 2003 Mr. Barreno was approached by the Senate of Canada Standing Committee on Aboriginal People, to participate in a study to examine the issues affecting Aboriginal youth as the Committee aims to develop an "Action Plan for Change that will benefit Aboriginal youth.

He is also participating in a study to analyze the technical need of Indigenous teachers working in Indigenous communities in Latin America. The study is led by the College of the Americas.

Leonzo has served in several local, national and international boards.

Source: University of Saskatchewan, Centre for Continuing & Distance Education and Extension Division - accessed April 9, 2007

Global Television Network Visiting Chair in Journalism; University of Regina 2002 - 2003
The Global Network Visiting Chair spends one semester on campus teaching Aboriginal Affairs, International Indigenous Issues, cultural diversity, minority rights or Canadian demographics. In addition, the visiting professor acts as a resource person for students, faculty and staff in the School of Journalism, the Indian Federated College and across the University of Regina campus.







Dialogue between:
Jose Molintos Menico, Ibaloi, Philippines
and
Leonzo Barreno, Maya Kiche, Guatemala and Canadaialogue with Jose Molintos Menico and Leonzo Barreno



Additional Resources:

Documents and reports - Visit to Guatemala by Professor Rodolfo Stavenhagen, UN Special Rapporteur for the Human Rights of Indigenous Peoples

Mission to Guatemala
E/CN.4/2003/90/Add.2
24 February 2003

"Executive summary: This report is submitted in accordance with Commission on Human Rights resolution 2001/57, and covers the official visit to Guatemala made by the Special Rapporteur on the situation of human rights and fundamental freedoms of indigenous people from 1 to 11 September 2002."


Guatemala: Memory of Silence (English), February, 1999

Guatemala: Peace Agreements; United States Institute of Peace; Peace Agreements Digital Collection

PBS Online NewsHour; Guatemala's Future, December 30, 1996 - Transcript
Yesterday, government and rebel officials signed a peace agreement ending 36 years of civil war. Charles Krause looks at the war, its impact, and the future road to peace. A RealAudio version of this NewsHour segment is available.