Within a framework of lifelong learning, our vision will evolve collectively into an Open Learning Community involving all interested participants, and will be supported by a Technology-Based Distributed Learning infrastructure.


DIALOGUE BETWEEN NATIONS
PROPOSED OPEN LEARNING COMMUNITY

INTERNATIONAL CONSORTIA:

KNOWLEDGE KEEPERS,
INFORMATION PROVIDERS AND TECHNOLOGY SHARING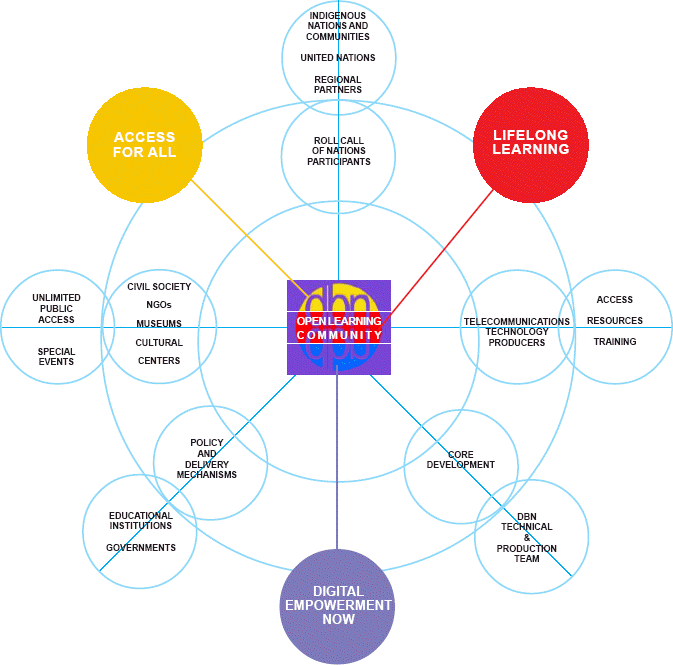 THE CREATION OF AN
OPEN LEARNING COMMUNITY


Planning, Implementing and Managing
Distributed Learning
Indigenous Peoples and the World
Indigenous Peoples and nations are challenged by the need to implement their own educational strategies and informal outreach programs which contribute to the ongoing traditional practices of their peoples. There is a growing understanding that aboriginal education must be driven by Indigenous community leaders and educators.

The development of aboriginal education and informal community access strategies is dependent upon enlightened indigenous governance and policy makers, who take into consideration learners' needs as the force that drives the survival of their nations.

Acknowledging the importance of indigenous local and national agendas, what happens in terms of strengthening relationships and living together as neighbours within a multi-sector environment? At some point, everyone needs to do their homework together.

The 21st century global village adds many stakeholders to the mix: regional players, communities, corporations, public and private institutions.

An innovative approach to enhancing learner centered relationships might be through the creation of an Open Learning Community, linking all stakeholders with one another, in virtual collaborative forums and dialogue on the political, economic and development issues and processes affecting each of them.

Such an initiative would welcome support from members of the United Nations and regional organizations such as the Organization of American States, within the context of the Millennium Development Goals.

A global facility or networked system for ongoing and parallel research in this field would also seem appropriate within, and extending from the already existing United Nations University, based in Tokyo.

In our view, the proposed DBN Open Learning Community, International Consortia Model of Knowledge Keepers, Information Providers and Technology Experts sets up a unique lifelong learning environment.
Virtual Permanent Forum for Indigenous Peoples:
Communications System
The recent establishment of a Permanent Forum on Indigenous Issues at the United Nations provides Indigenous communities with a formal body within the UN, focused on strengthening their communities (Agenda 21, Chapter 26: Recognizing and Strengthening the Role of Indigenous Peoples). A well-defined strategy for the planning, management and implementation of an Open Learning Community focusing on International Relationships and based upon an innovative distributed learning methodology, would support the goals of the Second United Nations International Decade of the World's Indigenous People (2005-2014).