MENTORS IN ELECTRONIC RESIDENCE
Dialogue Between Nations has access to an extensive archival collection of audio and video interviews and dialogues recorded over a period of 10 years with Indigenous representatives and other experts attending United Nations sessions, international Summits and conferences. A number of these individuals have indicated they would be interested to participate in global and regional video-conferences in an e-learning environment as Mentors in Electronic Residence.

All mentors and invited participants will be involved in interactive dialogue processes, based upon communicating their understanding and analysis of themes emerging from the pre-recorded dialogues, possibly selected from the following general areas of focus:

International Law and Human Rights
Land and Territories
Environment, Development and Resource Management
Trade and Economics
Biodiversity and Intellectual Property Rights
Traditional Knowledge and Culture
Resolution: Partnerships for the future

As a direct result of virtual dialogue with mentors and guest experts, participants will be able to draw upon these experiences for their own personal growth in preparing for active decision making and leadership roles within their own communities or professional sector.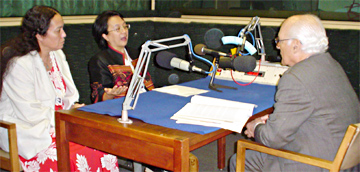 Mililani Trask, Victoria Tauli Corpuz, Rodolfo Stavenhagen

DIALOGUE BETWEEN NATIONS
DBN SPECIAL FEATURE

RODOLFO STAVENHAGEN - SPECIAL RAPPORTEUR ON THE
SITUATION OF HUMAN RIGHTS AND FUNDAMENTAL
FREEDOMS OF
INDIGENOUS PEOPLES

WITH GUESTS
MILILANI TRASK (Kanaka Maoli)
VICTORIA TAULI CORPUZ (Kankana-ey Igorot)

The resulting electronic dialogues based upon the viewing and discussion of pre-recorded dialogues presented in a mix of audio visual and text based materials, CD Roms and live broadcasts, will be archived and made available to all participants.

Creating the foundation for this interactive mentoring program, must take into consideration availability of invited guests, funding, IT support, demographics and diversity of locations, languages and access to technology.

Guidelines pertaining to confidentiality, intellectual property rights, and security (such as participation in closed and open forums), as well as potential access to this database by non-participants is of key importance to this mentoring program. Project coordinators and mentors will be responsible for defining criteria and standards for the validation of content and resources.