WOMEN MEMBERS OF THE PERMANENT FORUM ON INDIGENOUS ISSUES

STATEMENT

MS. MILILANI TRASK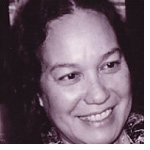 THE BEIJING DECLARATION OF INDIGENOUS WOMEN CONTINUES TO BE THE FOUNDATION FOR INDIGENOUS WOMEN

My comments and proposals are to the Chairwoman of the Commission on the Status of Women. It's sad that Indigenous women have been marginalized to date by the work of the Commission. But in reality, we are all victimized because what we have to deal with are the very few provisions that we were able to get into the final documents that issued out of Beijing.

When it became apparent that Indigenous women were not going to be included in the Beijing document we worked collectively to issue the Beijing Declaration of Indigenous Women, and this continues to be the foundation for Indigenous women and it will be this document that we will be taking to Beijing+10 in a few months.

We are fortunate that the Commission comes to share with us their concern and admits honestly that there has been some marginalization. Because we are focusing on Indigenous women, many agencies and bodies of the United Nations have prepared excellent reports that detail the needs of Indigenous women and that can instruct us. For instance, the Habitat report in provision 47 points out how Habitat is using the Indigenous Women's Beijing Declaration to inform them on the work that they are implementing now. Also IACSD (Inter-agency Committee on Sustainable Development) comes with an excellent submission for our Third Session "Enhancing the Role of Indigenous Women in Sustainable Development."

So I wanted to suggest that perhaps the Chair of the Commission could get a copy of these documents and reports and see if it might inform you as you work with us to become more inclusive.

Two points that I had wanted to suggest to the Chair, you know, marginalization is a sad thing, but it's easy to resolve by working inclusively with others. Perhaps the Chair would consider putting together an Advisory Committee of Indigenous women from all regions of the world, we have many women leaders here, we could work with you to assist you in becoming more inclusive. And also we have Indigenous women that sit here with the Permanent Forum who could also assist.

And lastly, a point, we are approaching Beijing +10. We are very concerned that Indigenous women once again are going to be marginalized by the process. We're hoping that there is some way that the Commission on the Status of Women can work with women from all the regions to ensure that we will have Indigenous women present and that our concerns will be heard and that we will be able to participate in a meaningful way.