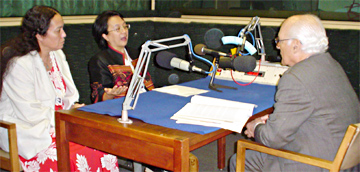 TRANSCRIPTION OF AUDIO ON DEMAND PROGRAM

Recorded May 14, 2003
UN Headquarters
With the generous assistance of UN Radio and dbn.tv director, Javier Perez


Vicki: I'd like to present an overview of a recent visit which was conducted by the Special UN Rapporteur for the fundamental freedoms and human rights of indigenous peoples - he came to do a mission in the Philippines last December 1 - 11, 2002 and in this visit of the special Rapporteur, Tebtebba and various other Indigenous Peoples' organizations and NGO's in the Philippines helped organize his visit to the communities. In spite of the fact that he was officially invited by the Philippine government. In his report which was released in the 59th meeting of the Commission of Human Rights in Geneva, he summarized this report by saying that "there are still serious human rights violations done by the Philippine government, of course, the Philippine army and the paramilitary units against Indigenous Peoples in various parts of the Philippines.

And these human rights violations are also very much related to the conduct of big, mega development projects such as dam building, mining operations and also deforestation and even industrial forests, plantations and the reports that were given to him - presented to him by the various indigenous peoples in these communities and they have shown that many of the violations they have shared with Professor Stavenhagen, many of the violations which range from arbitrary detention, torture, rapes, forced displacements and of course, the violations of the rights of control over the ancestral lands and territories and I am glad to see the Special Rapporteur is here today and maybe we can continue the conversation.

Prof. Stavenhagen joins Vicki and Mililani.

I just started by saying that you came over to the Philippines and you documented the cases of human rights violations and maybe since you were the one who - then, it would be good if you can talk about your findings, and me, a Philippine indigenous person can also - and make some comments.




Professor Stavenhagen: Indeed, as the Special Rapporteur for the human rights and fundamental freedoms of Indigenous People, I visited the Philippines last year in December, in December of 2002, at the invitation of the Philippine government and in consultation with Indigenous Peoples - in the first place, of course, Tebtebba Foundation which you, Vicki Corpuz represent so very efficiently and I was fortunate in having a very interesting and varied experience in the Philippines in being able to talk with government officials and with representatives of a very wide sample of Indigenous Peoples' organizations and to visit Indigenous communities both in Luzon and in Mindanao and in - in the capital city.

This enabled me to learn first hand about the human rights situations of Indigenous Peoples and there were several points that of course, deserve underlining and which were brought to my attention regarding the human rights of Indigenous Peoples. I think the first and foremost being land and the access to land and all of the human rights implications of certain development policies. For example, investments in major so called development projects like the construction of dams or the open pit mining operations and other mining operations as well as commercial plantations for export in traditional subsistence areas and lumbering and logging operations in traditional lands and territories belonging to Indigenous Peoples. And what I was able to see from these interviews and these meetings with Indigenous Peoples was that very often these projects have very dramatic and negative consequences on the living standards of Indigenous communities. Not only do some of these activities really disrupt the environment with dramatic consequences on the wildlife and the fishing and the toxicity of water and air and soils and so forth, but in fact, the conditions of life in the communities are drastically altered and the living standards are being threatened by these developments.

Also in relation to this, what I saw, and what was brought to my attention in several places is that when Indigenous Peoples organize themselves to defend their rights and protest, it may create social conflict at the local level and sometimes the militarization of the areas with attitudes by the authorities that are in violation of national and international human rights standards.

So one of the demands which I heard and complaints that I heard is that there are a number of incidents of violence against Indigenous populations and communities within the framework of these conflicts and militarization of certain areas in which Indigenous Peoples are involved and Indigenous Peoples are not directly involved in any of the insurgency or counter-insurgency activities but they are the victims of these activities.

So in human rights terms its extremely worrisome so the report prepared by myself as Special Rapporteur which was presented to the Human Rights Commission at its 59th Session in April of 2003 provided some evidence, testimonial evidence and documentary evidence of some of these issues and reached some conclusions that the Special Rapporteur feels that should be brought to the attention of the Philippine government and there were some recommendations to the Philippine government in terms of possible alternatives to deal with these human rights issues.




Vicki: Yes, yes, of course it is expected that the Philippine government is not really happy about this report and in fact, this was shown in the very negative response that the representative of the Philippine government made as you presented your report in Geneva. But I think for Indigenous Peoples this is one of the rare instances where finally they sort of saw what the United Nations can do for them. For most Indigenous Peoples in the world, the United Nations is a very distant entity. And it's something that they virtually haven't heard of, you know, but this mechanism of a Special Rapporteur is really quite exceptional in a way because really the United Nations system to have a face, you know, and the people who are there in the villages are experiencing these violations have an opportunity to talk with a Special Rapporteur who represents the United Nations. And I think that for us the first response that we got from them, you know, they said, "Oh, so this what the United Nations is all about." Finally they see what the United Nations is. I think that was really very significant and it somehow brought the United Nations really to the grass roots level.

The other one is, of course, many distinct Indigenous Peoples have been saying many times all over and in the news, they have been going to the government and present, you know, their cases about how their rights are being violated, but somehow they get so frustrated because there doesn't seem to be any response to the cases presented there, so first, they expect a lot from the fact that the Special Rapporteur came to the country and this report officially presented at the UN, but we know that the Philippines government, as I said earlier, has responded very negatively and it might, and because of that response, it might justify the Philippine government saying "that we did not really accept these reports, so why should we be obliged to do the recommendations."

So maybe what I would like to ask is, "First of all, what do you of that kind of response and do you think it was fair?
I don't think it was fair because many, most, all Indigenous Peoples who talked to me in the Philippines feel it is really a justified representation of all the issues that make the - but so, I would like to know your response to that because I really think - and I feel that the - was… "What advice can you give to us in terms of pushing for the government to really be implementing the recommendations.?"

But Mililani Trask is also here and is a member of the Permanent Forum and so maybe just briefly you can introduce yourself.




Mililani Trask: Aloha. I am Mililani Trask. I am the Permanent Forum Indigenous expert representing the Pacific Basin and I'm so happy to be hear and to participate in the interview and also to pose a few questions from the Pacific Basin perspective to the Special Rapporteur. My first set of questions are questions that have been posed to me by Indigenous Peoples of New Caledonia and West Papua. In both of these areas we have had a long history of strife, we've had quite a bit of bloodshed and on previous occasions, prior to your own appointment, requests from me for visits from Special Rapporteurs relating to torture, other Special Rapporteurs, but no permission was obtained from the government.

I am wondering from your perspective as the Special Rapporteur, "Is there any way that we can address areas or issues that are raised by Indigenous Peoples, especially in areas where there is bloodshed, where there is conflict and governments, of course, are reluctant to admit the Special Rapporteur to come and to investigate and report on this?"

The other question that I had as a Member of the Permanent Forum, "we received this past year tragic reports of the murder of the Kuna Elders and also the torture, murder, dismemberment and cannibalization of the Indigenous Peoples and children in the Congo. We withheld making any statement pending your report and that of other Special Rapporteurs who I understand are investigating, and I'm just wondering if you have any information that you can provide me, and thank you."




Professor Stavenhagen: Well, thank you both of you, Vicki and Mililani for this opportunity to exchange some information with you and to develop some ideas under the role of the Special Rapporteur. Let me first attempt to answer very briefly the questions raised by Vicki regarding the report to the Philippines. Actually, at the end of my mission in December, in Manila, we had what is usually done at the end of a mission, which is a debriefing session with government authorities and representatives of non-governmental organizations and the media, in which I made a summary statement of my preliminary findings and conclusions of my mission. And I must say that at that meeting in Manila, the reaction from the government side was quite favorable to my report and I remember very clearly that the Chairperson of the National Commission on Indigenous Peoples, who was sort of the technical counterpart from the government side to the Special Rapporteur texturally stated that she found my conclusions quite accurate and to the point. And a number of other government officials, advisors actually to the President of the Republic also stated that they found that these conclusions were very valid and that they were looking forward to the report.

When the report was finished, drafted a couple of minutes later, in January, if my recollection is(correct ), as is usually the case, the United Nations High Commissioner for Human Rights Office sent it to the Philippine government for comments, and this is usually what is done before actually sending it to be processed, to be distributed and so forth, not for the Special Rapporteur to make any changes, but to add these comments, or - criticisms to the report itself. This is done by recruitment when there are government comments. Now we didn't receive any answer from the Philippine government. There were no comments so the report went ahead and was eventually distributed at the 59th session of the Commission on Human Rights. And so it was very surprising, that after the oral presentation at the session of the Commission, that the Philippine delegate actually made a very critical statement, not so much of the report itself as of the Special Rapporteur.

Well, that's the way it is. When one looks at situations of human rights violations and in fact the Resolution of the Commission setting up the mandate of the Special Rapporteur, specifically instructs the Special Rapporteur to investigate human rights violations. So when the Special Rapporteur looks at violations and listens to complaints about human rights violations, well, not everybody is happy with that, or is willing to recognize that such violations actually occur.

But the purpose of the report is not to pass judgment on any government, but rather to challenge governments and states where these reports are done to work with the United Nations and to address these issues. That is, we do this, and I do it personally as a Special Rapporteur, in very good faith, with a willingness to cooperate and to provide cooperation and the possibility of dialogue with the governments concerned about the situation of human rights. So I would expect that to be also the possibility in the Philippines and in spite of this incident at the Commission that is now well known, I am still looking forward to the possibility of cooperating very closely to the Philippine government in addressing these human rights issues that were raised by me in my report.

Now I am very happy to learn that the indigenous populations of the Philippines and human rights organizations and others find the report valuable and not only that, in terms of the conclusions and recommendations that appear in the report, but also in discovering that the United Nations has a mechanism that may be relevant to the concerns of Indigenous Peoples. What you say, Vicki, about the reaction of the Indigenous Peoples of the Philippines at this point, I think is replicated in other parts of the world where Indigenous Peoples always say, "Well, what is this?" about the United Nations. "In what way is it relevant to our - and concerns - and our local concerns?" And so I am very happy that such a visit, however brief actually it is and in a way, quite superficial because it's not a commission on enquiry that works for many years with a lot of staff and so forth, it's just a brief visit, that this visit is considered by the peoples concerned as something which may be relevant and I think that is very important because I think the world over, peoples, nations, must recognize that the United Nations is not something that is --- at the government level between government delegations and states, but that it is relevant to the concerns of peoples at the local level, so if my visit to the Philippines was favorable to this view and to this acknowledgment and awareness that the United Nations can make a difference, then I think that that is a very positive result.

Now obviously, a lot of people will ask, and I think around this table we can ask ourselves, "so what happens now? Does the United Nations have any enforcement mechanism in human rights that would follow up on such reports?" Well, unfortunately, here the answer is not so positive because we do not have any enforcement mechanisms. The governments that we address as we do, to the attention of governments, it is up to the attention of governments, it's up to the governments to take action. Of course they will be watched by the international community through the Human Rights Commission, but if they do not act on these things I think there is relatively very little that the United Nations can actually do except keep watch and keep informing.

So in a way it's also up to the Indigenous Peoples themselves locally, to use these reports in their own organization and in their own activities to protect their human rights and to work with governments to improve, or to close what is usually called the human rights protection gap. And I think that is the purpose of such a report.

Now, Mililani, the issues you raised, that are of course extremely important and I realize that there are areas in the Pacific Basin which concern Indigenous Peoples because of alleged human rights violations and situations concerning human rights that have been going on for a long time, whether it is in West Papua, or New Caledonia or even in other countries. And let me just say there that as a Special Rapporteur I am of course, most interested in receiving information about such situations.

Now there are different ways that the mandate and the mechanism of the Special Rapporteur, what they call in the technical language, special procedures, developed by the Human Rights Commission can be relevant to the concerns of the Indigenous People. One of course are these official missions which are, usually, as in the case of the Philippines, are undertaken by the Special Rapporteur at the invitation of a government. And I think that must always be chalked up in favour of governments. When governments invite a Special Rapporteur, to extend an invitation, they know that the conclusions of the report may sometimes be critical, and may not be to the liking of any particular government official, but I think governments who take human rights issues seriously are willing to face this challenge and I believe that is the case of the Philippine government as well when it invited the Special Rapporteur to come to the Philippines as it has been in other countries I have visited.

Now when such invitations are not forthcoming from a government for any number of possible reasons that does not really close the opportunity for Indigenous Peoples to have access to the human rights mechanisms available within the United Nations. Of course there are the Treaty Body and the committees and so forth, but specifically as regards my own mandate as Special Rapporteur, besides official visits there are other possibilities. For example, the Special Rapporteur receives communications, receives complaints, receives letters, documents from all sorts of sources: human rights organizations, Indigenous Peoples' organizations, individuals, academic research centers, international human rights organizations which draw the attention of the Special Rapporteur to human rights concerns involving Indigenous People.

Now what we do, in this case, is that when we receive this information, first of all we ask the party providing the information to be very specific. Because sometimes, let me say it clearly, we receive a letter denouncing, for example, an incident of violence, but there is no substantiating evidence, there is no documentation, no information, no specific information about who, when, where, under what circumstances, who are the alleged perpetrators of a violation, and it's very difficult to act upon that, -- or sometimes the information comes from a press release, or a press report which is in turn not sufficiently documented. So the first thing that we ask for is for a party that addresses the Special Rapporteur, or the Office of the High Commission on Human Rights to provide all the substantiating evidence, all the details that are possible. You know, that would be the first thing.

And then, what can we do with that? Well, usually within the procedure is either we can prepare two types of intervention. One is an Urgent Appeal addressed to the government involved, particularly when there is the possibility of the violence, or continued violence which may be threatening to the physical survival and integrity of persons or alleged victims of such abuses, and Urgent Appeals are then addressed to governments asking them to take precautionary measures or to get involved rather quickly and urgently to prevent certain violence from taking place.

And another type is what is called Letters of Allegation, which is when the officer, or Special Rapporteur receives sufficient information. On the basis of that information, governments are requested to provide further information.
In order words, governments are asked, saying "that we have received this allegation. We will provide the information." Now what can you say about that? Or can you please carry out an investigation?

Usually what we say that among the many complaints that we have received from all parts of the world in recent years, there is the alleged involvement of some local government authority or some armed group or something like that, so the first instance that of course must get involved, is the government itself through which judiciary, or through its Commissions of inquiry, and very often we don't know whether anything has already taken place at the domestic level to look into alleged violations of human rights. What we do is ask the government for information. Now hopefully, the governments will react and provide this information as soon as possible. But, unfortunately, sometimes this is not the case and we do not receive an answer within a reasonable period of time or we don't receive an answer at all. And so, actually, in my annual report to the Human Rights Commission, there is an addendum with a summary of the communications received during the period covered by the report and detailing what countries are involved and whether or not we have received satisfactory answers.

Now what happens afterward is still in, in a way, let me be very frank and candid about it, is still a mystery to me, because very often where I think the mechanism fails to be very effective is in the follow up on such complaints and such issues. And I am hopeful that this will be worked out, certainly as far as my own mandate as Rapporteur is concerned, that there will be an effective follow up mechanism to look into these allegations.

Now, Mililani, you mentioned a number of cases, two particularly very serious cases which have been reported on in recent months. One is the assassination of several Kuna people in Panama by, apparently an armed group from across the border in Colombia, which is one of these paramilitary groups that operate in Colombia at the margin of official institutions. So the first countries concerned would be both Panama and Colombia in trying to investigate what exactly happened and why did it happen and are they doing anything to prosecute, to identify and prosecute the perpetrators of these horrible massacres. And indeed, several other Special Rapporteurs and myself have sent out letters urging both governments to report back to the Special Rapporteurs about measures which are being taken to clear up and find out just what is happening and what is being done to prosecute the people who were involved in these massacres and what is being done to prevent any further violence from occurring .And I must say we are still waiting for some adequate answers.

The same can be said about this very tragic incident, incidents, that we have been hearing about from the press, some letters, in the Congo regarding massacres of pygmy populations and also the accusations of cannibalism, and I have not yet received a satisfactory answer. Now there is the possible talk of a Special Mission to be undertaken, particularly to the Congo to look about this, but nothing has been decided yet. Usually, as you know, within the system of human rights protection within the UN, this involves some previous negotiations with the government concerned and the UN mechanism in the countries involved. So the Special Rapporteur, in that sense, cannot act entirely independently because it's subject to these protocols in these mechanisms, these formal mechanisms that exist within the United Nations system.

Now to go back, Mililani, to your earlier point, regarding for example, the situation in the Pacific Basin, when a people would want the Special Rapporteur to come and look at their situation, but there is no official government invitation forthcoming. There is the alternative of informal visits, non official visits to countries on the occasion of some other activities. Maybe attending a conference or maybe a workshop organized by the UN itself or by a local agency at which the Special Rapporteur may be invited to attend, on which occasion the Special Rapporteur might have a personal contact with the people concerned, or make visits to the communities.

I have already done that several times since the beginning of my mandate in several countries. So that is certainly a possibility. And this is an alternative possibility to official visits.




Vicki: I'd like to say that I think that the conversation is really very important because whoever is listening, at least all the various possibilities that can be explored and used, for Indigenous Peoples to have access to, you know, the International community, so that their cases can be heard.

I am very thankful for that.




Mililani: I am also, thank you very much, Rodolfo.







Vicki: But the last thing I would like to say though, is the more we hear about, the more we are convinced that really there should be other mechanisms in the UN or outside the UN that should still be created so that Indigenous Peoples can have other venues where they can really raise their issues. Of course, we know that the most important thing for us is to be able to organize and to really put more pressure on our governments and continuously use the recommendations that you have so that we can use them to pressure the government and also to create public opinion, you know. So that might give that kind of pressure to governments. And many instances, it did work, like, for instance we did that during the Marcos dictatorship. Because of international opinion and the strong movement in the country, the dictatorship fell down.