Tibetan Women's Delegation Report
On the United Nations Fourth World Conference
on Women, Beijing 1995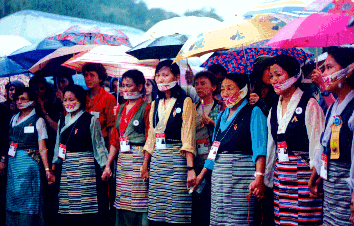 Tibetan Women from exile gag themselves with silk scarves given by China to guests at the FWCW opening ceremonies and stage a silent vigil in pouring rain on the second day of the NGO Forum, to symbolize China's silencing of Tibetan women's voices. Photo courtesy of Carole Samdup, CTC
PREFACE
This report is directed to the Tibetan community, non-governmental organisations, government representatives and other interested individuals. Its purpose is to inform the reader about the development and activities of the Tibetan Women's Delegation (TWD) to the United Nations Fourth World Conference on Women and provide suggestions for future efforts. The body of the report includes nine sections followed by six appendices.
The Introduction briefly discusses the decision to send a delegation of Tibetan women from exile and outlines the objectives of the TWD.
Sections II through VII describe the TWD's preparatory efforts, access problems, activities at the FWCW NGO Forum and official UN Conference in Beijing, contact with delegates sent by China from the Tibetan Autonomous Region and media strategies.
Section VIII describes the TWD's use of the Platform for Action and includes recommendations on how to use the Platform for Action in future lobbying efforts.
The final section provides recommendations based on the experiences of the TWD.
The appendices provide additional information about the TWD, including its members, publications, participation in preparatory conferences and a financial statement. Also included in the appendices are a petition submitted on behalf of Tibetan women and a list of acronyms used in this report.
A sampling of news articles from the global press are provided as an attachment to hard copy versions of this report. For more information please contact the Regional Coordinator nearest you. Their addresses are listed in Appendix II, subsection B.
WHO PREPARED REPORT
This report was prepared collectively by members of the Tibetan Women's Delegation from the following organisations:

Australia Tibet Council
PO Box 1236
Potts Point NSW 2011  AUSTRALIA
Tel:  61 (2) 360-9669
Fax:  61 (2) 360-9057
E-mail: tibetcouncil@atc.org.au

Canada Tibet Committee
4675 Coolbrook Ave
Montreal, Quebec, H3X 2K7 CANADA
Tel:  (514) 487-0665
Fax:  (514) 487-7825
E-mail: cantibet@tibet.ca

International Committee of Lawyers for Tibet
2288 Fulton Street, Suite 312
Berkeley, CA 94704  UNITED STATES
Tel:  (510) 486-0588
Fax:  (510) 548-3785
E-mails: tibetjustice@tibetjustice.org

Tibetan Rights Campaign
4649 Sunnyside Avenue N., #323
Seattle, WA  98103  UNITED STATES
Tel:  (206) 547-1015
Fax:  (206) 547-3758
E-mail: trcseattle@igc.apc.org

Tibet Support Group, UK
9 Islington Green
London, N1 2XH  UNITED KINGDOM
Tel:  44 (0) 171 359 7573
Fax:  44 (0) 354 1026
E-mail: mail@freetibet.org

Tibetan Women's Association 
Bhagsunag Rd.
PO McLeod Ganj 176219
Dharamsala, District Kangra, HP INDIA
Tel:  91-1892-22527
Fax: 91-1892-23374 / 22589
E-mail: twa@del2.vsnl.net.in

Tibetan Women's Association, East Coast
c/o Office of Tibet
241 East 32nd Street
New York, NY 10016 UNITED STATES
Tel:  (212) 213-5010/Fax:  (212) 779-9245

Tibetan Women's Organisation
Farmerstrasse 14
8404 Winterthur  SWITZERLAND
Tel: 41-22-242-32-13
Fax: 41-22-738-79-41
E-mail: lobsang@kl.unibe.ch

Any and all parts of this report may be reproduced in any form, by print, photocopy, microfilm or any other means, as long as explicit reference is made to this publication and the publisher, the Tibetan Women's Delegation.
---
DBN Home | Table of Contents | Next: Introduction
© Copyright Tibetan Women's Delegation, April 1996.