THE GOVERNMENTS OF AUSTRALIA AND CANADA
APOLOGIES

The Australian and Canadian governments issue Apologies to Indigenous Peoples in their respective countries. Is the adoption of the UN Declaration next on the agenda? Both countries, along with New Zealand and the United States, voted against adopting the Declaration in the UN General Assembly on September 13, 2007.
APOLOGY TO AUSTRALIA'S INDIGENOUS PEOPLES
HOUSE OF REPRESENTATIVES
PARLIAMENT HOUSE, CANBERRA

13 February 2008

SPEECH
PRIME MINISTER OF AUSTRALIA
The Hon Kevin Rudd MP
To the Stolen Generations, I say the following: as Prime Minister of Australia, I am sorry. On behalf of the Government of Australia, I am sorry. On behalf of the Parliament of Australia, I am sorry. And I offer you this apology without qualification…

But my proposal is this: if the apology we extend today is accepted in the spirit of reconciliation, in which it is offered, we can today resolve together that there be a new beginning for Australia. And it is to such a new beginning that I believe the nation is now calling us.
OFFICE OF THE PRIME MINISTER OF CANADA
APOLOGY TO CANADA'S ABORIGINAL PEOPLES

11 June 2008
Ottawa, Ontario

SPEECH
PRIME MINISTER OF CANADA
The Hon Stephen Harper

The treatment of children in Indian Residential Schools is a sad chapter in our history.
For more than a century, Indian Residential Schools separated over 150,000 Aboriginal children from their families and communities. In the 1870's, the federal government, partly in order to meet its obligation to educate Aboriginal children, began to play a role in the development and administration of these schools. Two primary objectives of the Residential Schools system were to remove and isolate children from the influence of their homes, families, traditions and cultures, and to assimilate them into the dominant culture. These objectives were based on the assumption Aboriginal cultures and spiritual beliefs were inferior and unequal. Indeed, some sought, as it was infamously said, "to kill the Indian in the child". Today, we recognize that this policy of assimilation was wrong, has caused great harm, and has no place in our country.

VIEW VIDEO



LISTEN TO AUDIO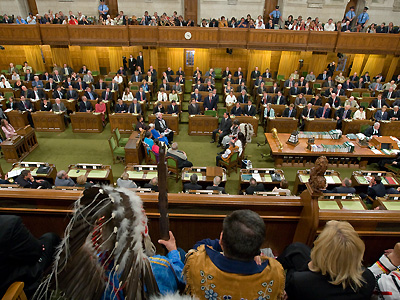 SPEECHES IN RESPONSE TO THE CANADIAN APOLOGY

INUIT TAPIRIIT KANATAMI
The national apology made to aboriginal survivors of residential schools on June 11, 2008 was an historic day for Inuit, First Nations, Métis, and we would argue for all Canadians. Inuit gathered in Ottawa prior to June 11th and prepared to receive the formal apology from Prime Minister Stephen Harper. The apology was made in the House of Commons, and it represented a historic first when national aboriginal leaders responded to the apology on the floor of the House of Commons. President Mary Simon spoke on behalf of the Inuit of Canada on that day.