WOMEN MEMBERS OF THE PERMANENT FORUM
ON INDIGENOUS ISSUES

STATEMENT

MS. NJUMA EKUNDANAYO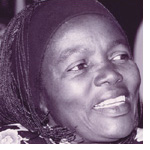 INDIGENOUS WOMEN WILL HAVE TO BE INTEGRATED INTO ALL LEVELS OF DECISION MAKING
We as Indigenous women of the world are becoming visible on the international scene and so we have to try to strike a balance between our disputes, our differences and our cultural and social similarities in the way in which we represent things. We have to strike a balance in promoting our determination and strength that is based on the strength of our traditions while always being aware of the challenges that we have to face. The erosion of our economic base and our ways of life, the commercial exploitation of our ancestral lands. the exhaustion, the depletion of our environment all have to be dealt with.

Yet, we cannot stop there. Our action and our will must be concentrated by calling upon governments and the international community, as well as inter-governmental global and regional organizations so that they will act and establish a framework for a program for economic building for the environment as well to protect Indigenous women. And this framework must be based on a better understanding of the ways of living of Indigenous Peoples and on respect for cultural diversity as we have said so often.

Investing in Indigenous women means investing in the environment, in economic development that is sustainable and in cultural knowledge.